AQUOS 2021 New Heavy-Duty for Two Series Inflatable Pontoon Boat
The Heavy-duty Series package includes boat, folding seat, grab bar, fishing bag, side storage bag and paddle. When you purchase the product, you will get our 3-year ONLY REPLACE NO REPAIR WARRANTY.
SPECS
| | |
| --- | --- |
| Boat Length | 11.5 ft |
| New Weight | 90.98 LBS |
| Small Pontoon Boat Length | 4.43 ft |
| Guard Bar Net Weight | 11.57 LBS |
| Boat Width | 5.7 ft |
| | |
| --- | --- |
| Folding Seat Net Weight | 11.46 LBS |
| Aluminum Floor Size | 39*85 inch |
| Big Pontoon Tube Diameter | 13.38 inch |
| Small Pontoon Tube Diameter | 7.87 inch |
| Max Load Capacity | 800 LBS |
| Engine Capacity | 5HP |
| Passengers&GEAR | 2 or 800LBS |
Features
🚀 Installation: The Heavy-duty series Pontoon boat is easy to set up, the 3-step installation only takes about 25 minutes.
🚀 Aluminum Floor Board Size: 39*85inch(4 Pieces of floor boards available in the package, please connect the 4 pieces together)
🚀 Safety: The package include 4 individual air chambers and a patented design of two side air chambers, providing highest class of safety and performance. 
🚀 Stability: The wide stance of pontoons may increase water contact surface, the boat is equipped with solid full size of aluminum floor boards and EVA anti-skid mat, which is truly providing a stable and secure fishing space for anglers.
🚀 Portability - As the boat can be separated into several components, it allows customers to pack it easily in a car or RV.  
🚀 DIY: The boat can be customized according to customers' needs, you can outfit your FishMe Boat with items such as fish finders, rod holders, cup holders, anchor lock etc..., AQUOS new backpack boat is a fisherman-friendly fishing platform that can be used in various ways.
Warranty
⚡ 3-year ONLY REPLACE NO REPAIR WARRANTY on Heavy-duty series Pontoon Boat
Product Details
🚀Stainless Steel Guard bar: 304 Stainless Steel
     ➼ Made of 304 high grade stainless steel / aluminum base, the guard bar is rust-resistant and strong enough to withstand extreme conditions.
     ➼ It adds safe, secure support for casting while standing and a convenient hand-hold while stepping aboard.
🚀Tube Material: 0.9mm Military Marine Grade PVC  
🚀Aluminum Floor Board Size: 39*85 inch
     ➼ EVA anti-skid pad - AQUOS EVA anti-skid pad can prevent slip and fall hazards, providing excellent resistance to cold and heat as well, it may ensure long hours of fishing trip. Please Kindly stick the EVA anti-skid pad according to your fishing habits.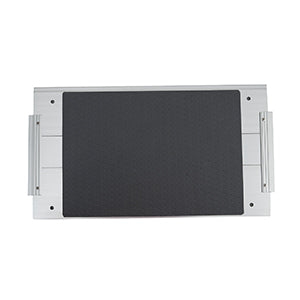 🚀Component: Engineering grade composites component
🚀Anchor rope: about 13 ft length anchor rope
🚀Bottom Rubber Strike: abrasion-resistant and minimize wear from rock
🚀Max load capacity: 800lbs, 2 passengers, suitable for customers with various requirements

🚀Seat: 360-degree Swivel Seat (Height Adjustable between 9.6" and 13")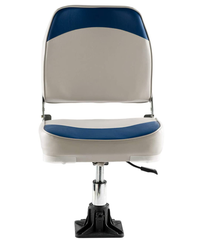 ➼ The 360-degree swivel seat manufactured with a heavy duty marine grade  vinyl providing durability against UV fading and mildew.
      ➼ It offers plenty of back support and generous cushions--you'll sit in the lap of luxury on every fishing excursion. Moreover, it can be installed on your desired position.
🚀Paddle: updated 5.4ft paddle design.
🚀Storage: One Side storage bag and one fishing bag, manufactured with 1680D coated waterproof oxford fabric material, two storage space for fishing rods, one bottle holder, with tool pocket and bait bag.
🚀Fishing Bag: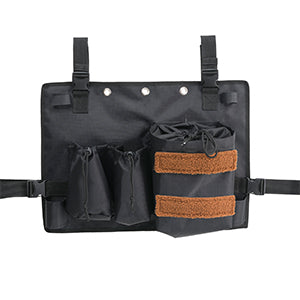 Material: 1680D coated waterproof Oxford fabric;

Reflective stripes on the back, ensuring your safety at night;

Two storage spaces for fishing rods on the front and two on the back;

Bait bag with detachable and cleanable lamb wool piece, convenient to carry more fishing bait and to quickly replace the bait;

Bottle pocket - hold various sizes of water bottles;

Tool pocket and stainless steel hanging ring, allowing Lurers to easily take/place tools during fishing
🚀Side Storage bag: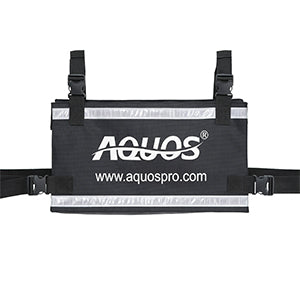 ➼Material: 1680D coated waterproof Oxford fabric;
      ➼Reflective stripes on the back, ensuring your safety at night;
      ➼Easily hold clothes, electronic equipments, etc. with waterproof zipper design;
AQUOS 11.5 ft Pontoon Boat with Haswing Trolling Motor
| | | | | | | |
| --- | --- | --- | --- | --- | --- | --- |
| | | | | | | |
| Boat Length | 11.5 ft | 11.5 ft | 11.5 ft | 11.5 ft | 11.5 ft | 11.5 ft |
| Boat Net Weight | 90.98lbs | 90.98lbs | 90.98lbs | 90.98lbs | 90.98lbs | 90.98lbs |
| Alum. Floor Size(in.) | 39*85 | 39*85 | 39*85 | 39*85 | 39*85 | 39*85 |
| Grab Bar  | ✓ | ✓ | ✓ | ✓ | ✓ | ✓ |
| Folding Seat | ✓ | ✓ | ✓ | ✓ | ✓ | ✓ |
| Haswing Trolling Motor | Bow Mount 12V 55lbs Hand Control | Bow Mount 12V 55LBS Remote Control | Transom 12V 55lbs Hand Control | Transom 12V 55lbs Remote Control | Transom 24V 85lbs Hand Control | Transom 24V 110lbs Hand Control |

Backpack Series vs. Heavy-Duty Series Boat
| | | | | | | |
| --- | --- | --- | --- | --- | --- | --- |
| | | | | | | |
| Series | Backpack | Backpack | Backpack | Heavy-Duty for One | Heavy-Duty for One | Heavy-Duty for Two |
| Boat Length(ft.) | 7.5 | 8.8 | 10.2 | 8.8plus | 10.2plus | 12.5 |
| Boat Width(ft.) | 4.5 | 4.5 | 4.5 | 5.1 | 5.7 | 7.2 |
| Alum. Floor Size(inch) | 27.5*47 | 27.5*63 | 27.5*78.5 | 33.5*63 | 39*78.5 | 51*94.5 |
| Net Weight(lbs) | 51.68 | 61.57 | 71.56 | 67.62 | 83.80 | 117.53 |
| Big Tube Diam. (inch) | 11.8  | 11.8  | 11.8 | 12.6 | 13.38 | 14.9 |
| Small Tube Diam.(inch) | 7 | 7 | 7 | 7.48 | 7.87 | 9.84 |
| Passenger   &Gear | 1 or 350lbs | 1 or 450lbs | 2 or 550lbs | 1 or 550lbs | 2 or 700lbs | 2 or 970lbs |
| Engine Capacity | 55LBS | 3HP | 4HP | 3HP | 4HP | 6HP |